Don't fear the banana! Take a ride...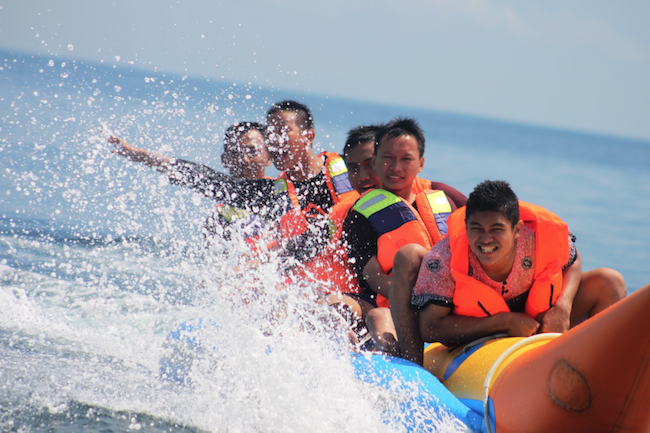 Along with dolphin cruises and Destin parasailing, banana boat rides have been one of the most popular activities in the Panhandle. Banana boat rides are fun, exciting, and great for families. Up to 6 people can ride on the banana boat and the captain can either go fast or slow depending on what type of adventure you want. The banana is pulled by a watercraft, typically a high-speed jet ski or waverunner. The banana boat rides are located in several spots in Destin, but there are also some companies that offer rides directly from the beach! We recommend booking a Destin banana boat ride in advance there is limited space for these trips.


Customer Reviews from TripShock.com
FUN
"FUN!!. Hold on tight! Wear glasses and something over your mouth because you will get saltwater in your eyes and in your mouth on this ride. Maybe somebody bigger than you could sit in front of you to block all the spray, lol. It was just two of us on the banana boat and the water was a bit choppy that day, this ride kept us laughing the entire time. I would definately do this ride again."
Slade - USA
Scary but FUN!
"Super nice guys, professional but fun. I was scared out of my mind but they took care to make sure I didn't go flying off. My daughter wanted a little more excitement so they were nice enough to bring me into shore before proceeding to do the donuts, etc with her. Would definitely recommend them to others heading out to Destin."
Chris Cuthbert - Potomac, MD
BG, KY folks had a great time, Grandma was the champ!!
"The BG, KY folks had a great experience in Destin FL. Booking was easy and the Banana Boat ride was great! The people at the tent cordial and driver "awesome"! Getting the "deals" from TripShock is nice!"
Susan - Bowling Green, KY